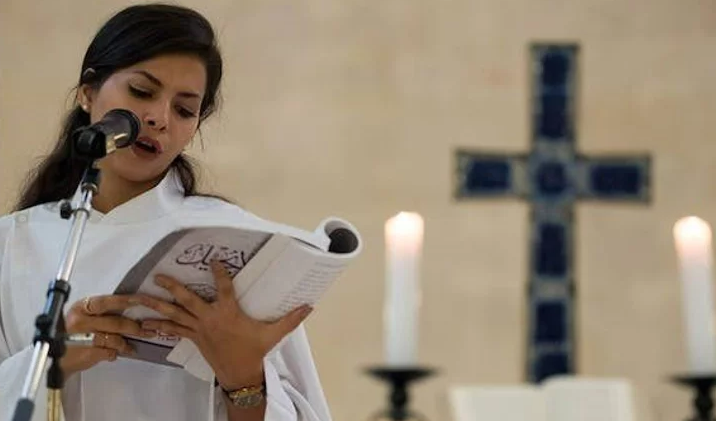 Palestinian woman ordained first female pastor of Lutheran church in Jerusalem
History was made in Jerusalem Sunday as Sally Azar became the first Palestinian female pastor to be ordained in the Holy Land. The ceremony, held at a Lutheran church in the heart of the Old City, was attended by hundreds.
Azar will head the English-speaking congregation at the Church of the Redeemer in Jerusalem, The Associated Press reported.
As Azar watched the excitement of those around her, her own excitement grew, she told the BBC, which said she was ordained by her father, Bishop Sani Azar.
It was an indescribable feeling for her to take this step in her faith journey with the support of the church, she said, adding that she hopes many girls and women will know that this is possible and that other women in other churches will join her in this path.
She will also be leading services and Bible studies in Beit Sahour, in the West Bank, for English-speaking congregations, BBC said.
According to the Palestinian Central Bureau of Statistics, as of 2017, the West Bank and Gaza Strip had a population of around 47,000 Christians. The majority of Palestinian Christians belong to denominations that do not permit the ordination of female clergy, including the Greek Orthodox and Latin Catholic Churches.
Azar said she understands that it might take a long time, but she believes it could be exciting if this change occurs in Palestine.
"Everywhere where you have a patriarchal society and culture this is a major step," the BBC quoted the recently retired Archbishop of the Church of Sweden, Antje Jackelen, as saying.
The Old City, which is part of East Jerusalem in Israel, has sites sacred to Judaism, Christianity and Islam.
Last January, the Greek Orthodox Patriarch of Jerusalem said Israeli radical fringe groups were seeking to drive the Christian community out of the city.
"Our presence in Jerusalem is under threat," Theophilos III, the patriarch of the Orthodox Church of Jerusalem, wrote in an op-ed in The Times (of London) at the time.
"Our churches are threatened by Israeli radical fringe groups. At the hands of these Zionist extremists the Christian community in Jerusalem is suffering greatly. Our brothers and sisters are the victims of hate crimes. Our churches are regularly desecrated and vandalized. Our clergy are subject to frequent intimidation," he continued.
He believed the "sworn intent of these radical groups is to extinguish the light of the Christian community from the Old City."
The patriarch noted that these radical groups, which were "not representative of the state of Israel or the Jewish people," were seeking to occupy "through illegitimate transactions" two big buildings at the Jaffa Gate area, which lies on the pilgrim route to the Church of the Holy Sepulchre. The church was built on the spot where both Roman Catholics and Orthodox Christians believe Jesus was crucified, buried and resurrected.