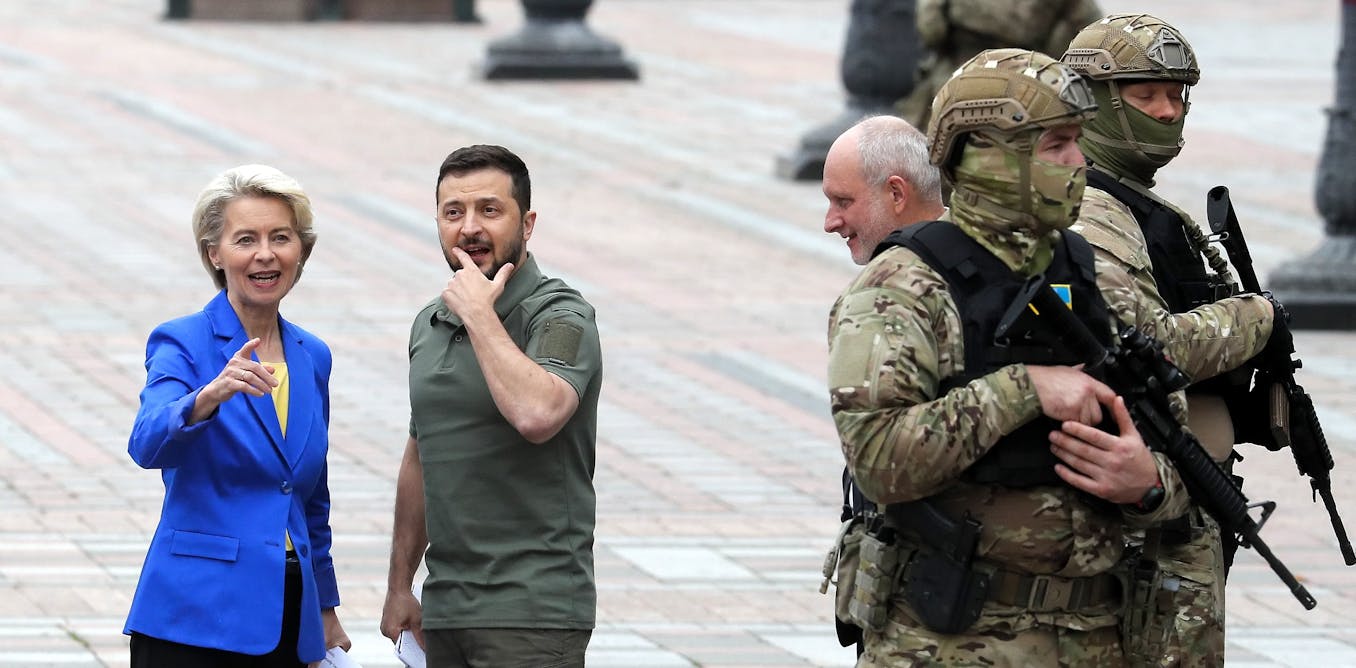 Ukraine war: Kyiv summit with EU will bring the two sides closer, but fast-track membership is unlikely
There are conflicting expectations ahead of a forthcoming summit between EU leaders and the president of Ukraine, Volodymyr Zelensky. Kyiv has made it clear that it wants to join the fast track for EU membership in two years – prime minister Denys Shmyhal said as much in an interview on January 30. But getting Brussels to commit to any definitive timeline – let alone 24 months – is highly unlikely.
Instead, the summit on February 3, which will follow a day of meetings between a high-level delegation of EU commissioners with senior Ukrainian government officials, is more likely to focus on the concrete, short-term deliverables that Ukraine will get out of its ever closer relationship with the EU.
After almost 12 months of brutal Russian aggression against Ukraine, there is no end in sight to the fighting and suffering of ordinary Ukrainians. Nor are there any signs of weakening western support that has provided a vital lifeline for the country – economically, politically and militarily.
According to the Ukraine Support Tracker by the Kiel Institute for the World Economy, EU institutions and member states have committed almost €52 billion (£46 billion) in support to Ukraine by the end of November 2022, slightly outspending the US with just under €48 billion. Approximately 60% of the EU's commitments were direct financial support by EU institutions, with the bulk of humanitarian and military aid coming from individual member states.
Without a doubt, this tangible support for the Ukrainian war effort will be needed in the future as well, and probably more of it as the cumulative toll of the destruction inflicted by Russia – already estimated at €349 billion by the World Bank last September – continues to grow.
Road to EU membership
What Ukraine also needs is a clear political perspective – and it received one in the unanimous decision of the European Council last June to grant Ukraine the status of an official candidate country for EU membership.
But this is a long-term perspective. When negotiations finally begin, they need to cover 35 different chapters – and they are not negotiations in the traditional sense, but rather about how a candidate country adapts to EU rules and regulations. The more complex the issue is, the more painful, and thus contentious the reforms that are required, the more distant the prospect of progress.
For example, Turkey applied in 1987, was given candidate status in 1999, and started negotiations in 2005. This may be an extreme example, but as the French president, Emmanuel Macron, pointed out last September at the EU's "Future of Europe" conference, it could take years, if not decades for Ukraine's membership to become a reality.
There has apparently been significant pushback from existing member states against an accelerated accession process for Ukraine. After all, there are clear standards that must be met, and doing so while simultaneously fighting a war is far from easy.
Managing expectations
The summit in Kyiv, therefore, will thus also be about managing expectations. Several key messages are likely to be communicated by both sides.
From the perspective of Brussels, reiterating the commitment to future Ukrainian membership will be important but not enough. There need to be tangible deliverables now that look and feel like the beginning of actual integration. This could include the integration of Ukraine into the Single Euro Payments Area or the mobile roaming zone of the EU, for example.
These measures will need to be supported with further concrete commitments of support to Ukraine and of the continuation of sanctions against Russia. On both, the EU has a good track record of not only promising but also delivering. Two weeks ago, on January 17, the European Commission disbursed a first €3 billion instalment of its total €18 billion financial assistance package for Ukraine agreed last October. And the EU's ninth package of sanctions against Russia came into force last December.
For Kyiv, on the other hand, it will be important to reinforce the narrative that Ukraine not only deserves EU membership but is also earning it. Most importantly right now, it is standing on the battlefield in a war against an aggressor that has sought to destabilise European democracies for years. But Kyiv is also persisting in its reform efforts – most notably fighting corruption.
Both of these messages are important: to preserve the prospect of EU membership in the long term and, critically, to ensure continued EU support in the more immediate future.
'As long as it takes'
Much of the debate has centred on the military support that Ukraine clearly needs. While the issue of main battle tanks has been resolved, a new one has immediately arisen over Ukrainian demands for fighter jets, which is currently dividing Kyiv's allies.
With some in Ukraine fearful that war fatigue will grow in the west, the EU will need to carefully calibrate its message of support – backing Ukraine against Russia "for as long as it takes", as the president of the European Commission, Ursula von der Leyen, emphatically noted at the World Economic Forum in Davos in her January 13 speech. It will also need to make clear its commitment to assisting Ukraine in carrying out the reforms necessary on the long, and likely difficult path to EU membership.
Without support now, there will be no credible membership prospect later. But without genuine and visible progress on the latter, the support needed in the short term will not be sustainable. Managing the divergent expectations in Kyiv, Brussels and beyond will thus also be about making sure that both of these messages are heard and understood.