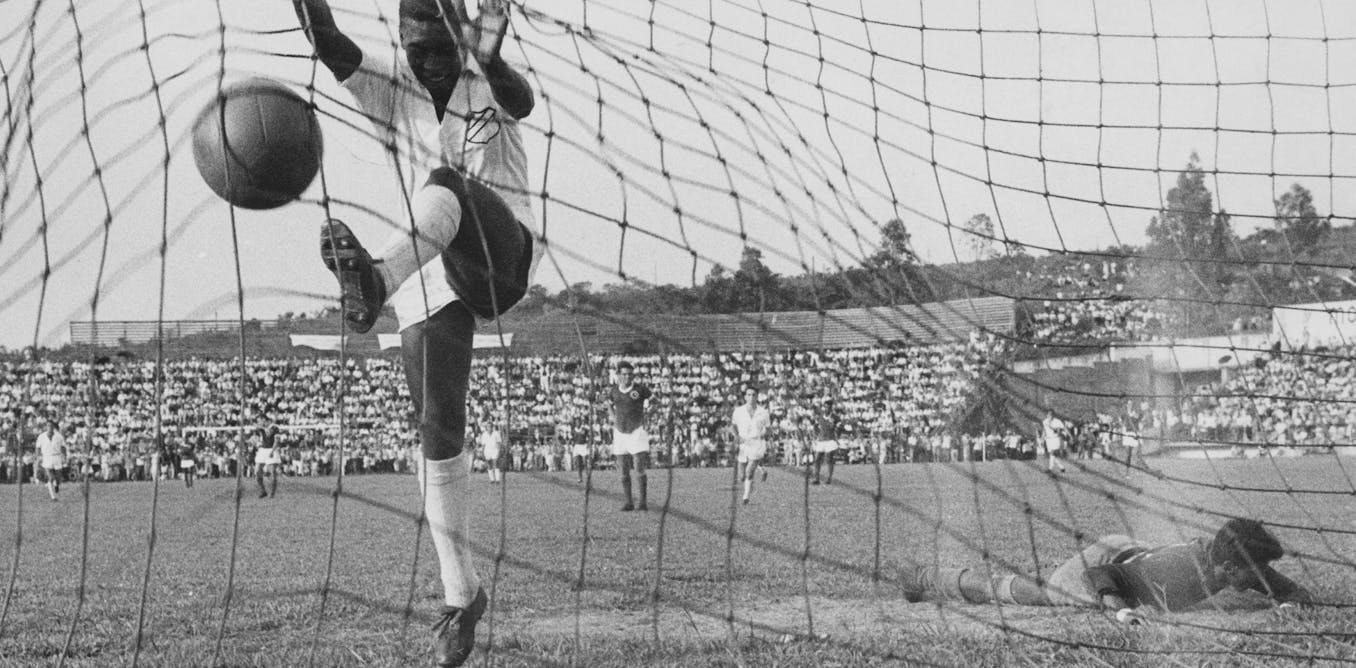 Pelé was ensnared by 'Brazilian-style racism' but stood firm as dictatorship tried to keep him playing
As arguably the greatest soccer player of all time is laid to rest, Prof José Paulo Florenzano of the Pontifical Catholic University of São Paulo considers Pelé's incredible legacy off the field. This article was originally written in Portuguese.
Pelé occupies a central, albeit problematic, place in the construction and affirmation of Brazil's national identity. His role in helping forge the identity of modern Brazil has roots in helping the country win the World Cup in Sweden in 1958 and in the global role taken on soon after by his club team, Santos.
Santos in the Pelé era travelled the planet as sporting diplomats, crossing ideological divides between communism and capitalism and celebrating the political emancipation of nations emerging from colonialism.
There is no doubt that the main achievements of the teams led by Pelé were encouraging the playing of soccer in countries where the sport was rarely played, and, conversely, to have transformed the way the game was played in traditional soccer nations. In doing so, Pelé transcended the role of "national idol." He became something much more significant: a symbol of the Black diaspora, a pan-African reference point and a cosmopolitan icon.
It was no coincidence that Bob Marley – who similarly was held up as a hero to the Global South – made a point of wearing Pelé's number 10 shirt during the singer's brief visit to Brazil in 1980. To Marley and others, Pelé embodied the aesthetic of soccer as art and an expression of freedom.
Outside Brazil, nowhere was Pele's presence as an icon of Black achievement felt more than in a decolonising Africa.
The Mozambican footballing great Eusébio – who represented colonial masters Portugal on the international stage – first found his soccer identity playing for "Os Brasileiros" (The Brazilians), a team created in the suburbs of what is now the capital Maputo, in homage to 1958 World Cup winners.
Indeed, countless African players from the capital of Mozambique were given the nicknames of "Pelé", "Garrincha", or "Didi" – three Black heroes of the Brazilian national team, and an inspiration for millions across the African continent.
Global inspiration, domestic force
Pelé's professional career, falling between the years 1956 to 1974, coincided with the period in which Brazilian authorities held claim to what was called "racial democracy" – the belief that discrimination against non-white Brazilians did not exist.
But this ideology only served to muffle the very real struggle of Afro-Brazilians and blocked debate over racial inequality. It placed racism as something apparently unthinkable in national society, as the scholar Antonio Sergio Alfredo Guimarães states in his book "Classes, Raças e Democracia".
These were the conditions under which Pelé's trajectory took place, and his experiences lay bare how Brazilian-style racism operated.
Shortly after winning the country's third World Cup in 1970, Pele decided to retire from the national team to dedicate himself to his business ventures and club career. When he did so, the unanimity that had been woven around his image in Brazil quickly fell apart.
Pele faced pressure to continue playing for the national team by a dictatorial regime keen on extracting political dividends from any soccer triumphs on the international stage. At the same time, he was admonished by white elite that sought to limit his role to that of an athlete – and in so doing reiterate the place afforded to Black people in Brazilian society.
Pele's approach to dealing with the Brazilian dictatorship has been criticised – the implication being he could have been more direct in his opposition to it. But from 1971, when he announced his departure from the national team, until 1974, when he ended his career at Santos, Pelé faced coercion, threats and blackmail in attempts to make make him bow to the converging interests of the military dictatorship and structural racism.
Such intimidation included the cancellation of two farewell games that were due to be held in mid-1971 in São Paulo and Rio de Janeiro to honor his achievements.
Pelé would not back down in the face of severe criticism from certain quarters made in the name of an exacerbated nationalism that cast him as a mercenary or traitor.
Greatest political legacy
The contested nature of his farewell from the pitch in effect, closed one of the most fascinating chapters of the unsubmissive will of a Black player in the face of the power structures of Brazilian society.
Pele's stance was informed not only by his disgust at the torture that had been carried out by the Brazilian dictatorship, but also a personal desire to be able to be rewarded for his fame and soccer. Nonetheless, Pelé's determination to stand up to a military dictatorship and structural racism represents the greatest political legacy of his life.
Pelé demonstrated that sport and entertainment did not constitute the "natural place" for the Afro-Brazilian as it had been conceived in racist discourse. He went on to acquire a university education, become a businessman and even held the role of minister of sport in the 1990s.
Pelé's trajectory reveals that soccer can be transformed into a space for the anti-racist struggle. In steadfastly refusing to be seen as simply a soccer player and in pursuing a career away from the pitch, Pele exerted a right that Afro-Brazilians not be excluded from activities historically monopolised by the more privileged white groups.
The historical significance of Pelé chimes with the present context Brazil finds itself in. After four years of an extreme right-wing government, the return of a government not inclined to diminishing democracy, and committed to the anti-racist struggle, represents the resumption of a trajectory for Brazil that Pelé's own journey illustrated.