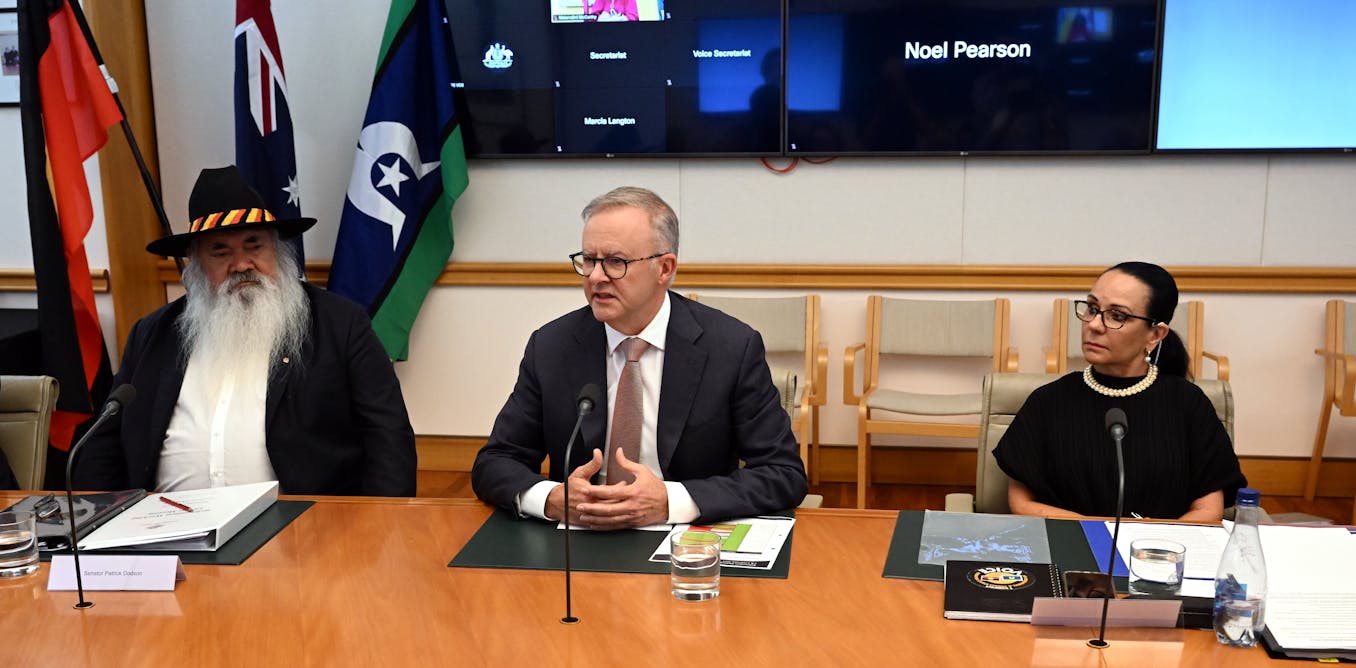 The First Nations Voice to parliament could get us to revisit conversations about Australia becoming a republic
Australia is preparing for a referendum to decide on the proposed Voice to parliament for First Nations people. Prime Minister Anthony Albanese has stated the referendum is likely to happen sometime between October and December this year.
If the Voice passes the referendum, Aboriginal and Torres Strait Islanders will be represented by a dedicated body to advise parliamentarians on the challenges faced by First Nations Australians.
At the same time, we are also seeing growing public support for the idea of Australia becoming a republic. This, like instituting a First Nations Voice to parliament, would involve significantly amending our Constitution.
If the referendum for a First Nations Voice is successful, what lessons might it hold for future possible constitutional amendments, such as Australia turning away from the monarchy and embracing republic status?
---


Read more:
The 1881 Maloga petition: a call for self-determination and a key moment on the path to the Voice


---
Why we need the Voice
By committing to a referendum and steering Australia on the path towards a First Nations Voice, the Albanese government has provided an opportunity to focus firmly on the needs of First Nations communities.
Significant issues need to be addressed, such as ongoing health and social inequities. First Nations Australians are more likely to die early than non-Indigenous Australians.
In addition, ongoing systemic harm across generations continues to impact First Nations peoples and their families.
Even with the little detail we know so far of the Voice's proposed design, the ethical reasons behind its implementation are enough for many people to have already given the proposal their backing. In my view, instituting the Voice would be a vital step towards reconciliation between First Nations peoples and Australians of settler backgrounds.
To achieve reconciliation, another pivotal step on this long journey would be to consider what began the centuries of injustice and domination of First Nations peoples: British invasion.
The British invasion of Australia disrupted at least 40,000 years of cultures and traditions, and remaining part of that monarchy makes reconciliation between Australia's First Peoples and its settler population much more difficult and unlikely.
---


Read more:
Our research has shown Indigenous peoples' needs cannot be understood and met, without Indigenous voices


---
Australia's allegiance to the Crown
Last year's accession of King Charles III prompted renewed debate about whether and when Australia should end its allegiance to the British Crown.
Under Australia's current constitutional arrangements, the Crown-appointed governor-general can decide whether a democratically elected prime minister remains in office. This is what led to the 1975 crisis in which Prime Minister Gough Whitlam was sacked by Governor-General Sir John Kerr.
In Australia, successive governments have done everything from removing the religious element from Queen Elizabeth II's regal title in 1973, to establishing principles that prevent undue interference in Australia's legislative or judicial processes. Despite this, the Crown's presence and institutions remain ingrained in our governance and constitution.
Consider also that First Nations MPs, upon entering parliament, have to swear their allegiance to the reigning British monarch. This is something many would find difficult and contrary to why they are entering political life.
Would we ever have to choose between a Voice and a Republic?
There has been a lot of disagreement about constitutional transformation, yet there is clear support for a Voice from Australian republic advocates. Naturally, thousands of Australians feel they are not being heard, and want a more direct voice to their government as well.
Australians demonstrated they're unhappy with their politicians and their government in a State of the Nation survey in 2022. Australians may be increasingly unhappy with their governments, yet Australians do not often vote yes in a referendum, which naturally raises concern for those who want the voice and a republic.
Although the State of the Nation survey demonstrated a lack of trust in politicians and our system of government, that alone is not enough to prompt people to vote for constitutional transformation. People need to see how a change will make life in Australia better for them. For a republic, the power is shifted from an elite family to the majority through an elected representative.
Republic supporters may be particularly apprehensive, having already fallen short of a victory in the previous referendum in 1999. Could the voice referendum throw out the republic debate for another decade?
The Albanese government has made it clear the First Nations Voice must take priority, but has fully committed to a republic referendum, and has appointed an assistant minister to the project of shaping Australia's sovereignty.
The Uluru Statement from the Heart states First Nations sovereignty was never ceded and that it coexists with the sovereignty of the Crown.
Aboriginal and Torres Strait Islander people are not challenging the Crown in the call for self-determination, but for coexistence alongside the Crown. Should that Crown cease to hold sovereignty over Australia, naturally, First Nations people will continue to coexist with whatever sovereignty takes its place.
---


Read more:
'We're all in', declares an emotional Albanese as he launches the wording for the Voice referendum


---
How can we best move forward?
Apart from caring for people, lands and waters, both the Voice to Parliament and the Australian Republic referenda have the potential to bring a more independent identity for our country.
This is especially important as we live in a time where far-right groups and false information place Australia's freedom and democracy at risk.
These steps are also important in addressing the burden of crisis and torment experienced by First Nations people since Britain's invasion.
The question is no longer whether we should have a voice for First Nations Australia, but why we don't have one already. Surely the same can be said of our nation's independence.